[[File:{{{image}}}|{{{image size}}}]]
Feather Scorch
Alias

Birdy, White Bird

Characteristics

Race

Human mage

Gender

Female

Age

16

Height

5'

Weight

87 lbs.

Birthday

August 8th

Hair Color

Blue

Eye Color

Purple

Blood Type

AB

Professional Status

Affiliation

Fairy Tail

Guild Mark Location

The palm of her right hand

Occupation

Wizard

Team

Dark Edge

Partner(s)

Flame Aquarius, Zane Kai

Base of Operations

Magnolia

Personal Status

Status

Normal mage

Relative(s)

Father, mother, 13 siblings

Magic

Magic

Bird Takeover, Wing Magic

Weapons

Feathers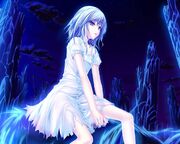 Powers
Feather is a user of Bird takeover and Wing Magic. Both of these magicks are very useful, even though they are not the strongest.
Bird Takeover is the ability to change into any bird known to the user. The user can pick up new forms by learning about new birds. This is useful for scouting, as a small hummingbird could easily infiltrate enemy territory.
Wing Magic is the ability to use feathers as projectiles. With certain incantations, feathers can be turned into iron, fire, ice, rock, or smoke bombs. Not very powerful, but constantly being pelted by these projectiles can be dangerous, if not fatal.
Weaknesses
There are quite a few weaknesses that come with Wing Magic and Bird Takeover.
With Wing Magic, you must be in the air to use, and that is difficult to acheive without being a bird.
Bird Takeover, as simple as it may be, also comes with the disadvantage of being more fragile. Crashing into something could cause devastating injuries.
Strengths
Spying and infiltrating are Feather's two main strengths. She's very quiet, and can easily clear out if need be. She is very good at remembering important information and routes, and for this, she has become the team's information manager.
Appearance
Feather is quite small for her age, with her height being only 5' even. She doesn't let this get to her, though. Even with her small stature, she knows she can outsmart most people. She has long blue hair and purple eyes. She wears a blue-white dress and white flats.
Personality
Feather is a very quiet girl, and also very calm. She is pretty much the opposite of Flame Aquarius. She likes to be in the company of others. She reads quite a bit, and may come off as unapproachable to some. She has a very quiet voice. She rarely becomes upset, and when she does, she usually gives people the silent treatment.
History
Feather grew up with a large family in a small cottage. She is the youngest of thirteen children of the Scorch family. She is also the only Scorch to branch off from plant magic. She developed her magic when she met a talking owl in the woods around her home, who then taught her how to change into a bird, as well as Wing Magic. She left home at the age of 16 and made her way to Magnolia, the nearest town. She soon became a member of Fairy Tail, and teamed up with Flame Aquarius and Zane Kai.